Treadmill Buying Guide
A treadmill can help you lose weight sensibly and incorporate fitness into your daily life. Enjoy a walk, run or jog no matter what the weather is like. It can be challenging to find the right treadmill because there are a few factors to take into consideration. Let's begin by exploring the benefits of owning one.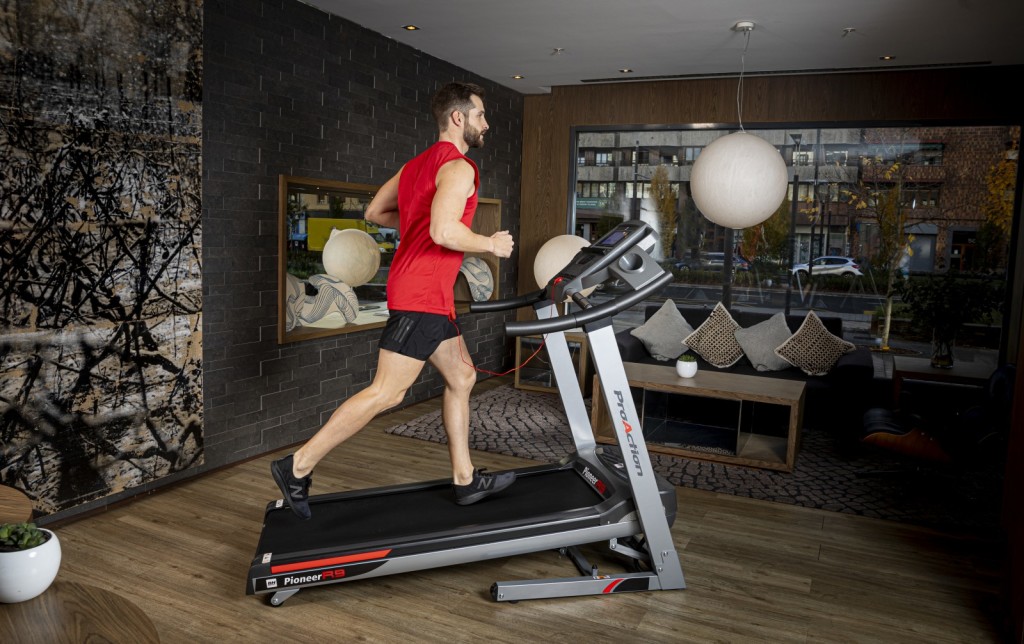 5 Advantages of Owning Home Treadmill
With the fine adjustment of the cushioning and an even surface of the treadmill belt, running on a treadmill belt causes less impact on the joints than running outdoors.

Getting fit at home gives you more flexibility: You can run whenever you want, regardless of the weather or the time you spend traveling.

There are various tracking tools on the treadmill that monitor various data. For instance, you can find out how many calories you've burned or how far you've run and keep track of your progress.

Exercise is more effective: You can choose the speed or incline and enjoy targeted exercises with running programmes that continuously adjust the belt settings.

There are many features that make the treadmill ideal when preparing for a race, such as MHR (maximum heart rate), aerobic thresholds, step amplitudes, and progress rate.
What To Consider
Space and Size
There are a few things you should consider before buying a treadmill for your home, first and foremost is your space and size. Take measurements of where your treadmill will go before you shop for one. Once you know where it will go, you'll narrow down your search. If you plan on buying a folding treadmill, make sure to measure the storage space, too.
Occasional or daily use
Secondly, you need to understand what you are going to use the treadmill for i.e. for occasional use, or for daily training for either walking or running. If you need it for occasional use, there are great value for money models available that are sufficient for that. If you need it for daily training , it would be best to get a light or full commercial unit for your home.
Treadmill walking / running surface
In general, a minimum belt length of 50" is recommended for walkers, 55" for runners, and 60" for runners over 6 feet tall. We recommend a 22" belt for runners, and a 20 inch belt for walkers. Although a 20 inch belt is sufficient for runners, it just leaves a little less room for error.

Another consideration is treadmill user weight capacities generally range from 100kg to 180kg. We recommend choosing a treadmill that can handle at least 20kg more than your body weight to help ensure that you don't strain the motor. If you weigh more than this, you may need to invest in a higher-end product.
Types of Treadmills
Manual Treadmill
Running on a manual treadmill requires you to propel it forward using your feet. Once you stop moving, the treadmill will come to a halt.

Manual treadmills require more effort to use because the speed of the deck is not controlled electronically. This could be a positive if you want a tougher workout, but there is a chance you'll crave the ease of use of an electric treadmill.

Because manual treadmills don't need to be plugged in, they can be used wherever there is enough floor space and most come with wheels that allow you to move them around.
Electric Treadmill
Due to their ease of use, electric treadmills are the most popular type of treadmill. As a result, you'll pay more money. Electric treadmills plug into the wall and use mains power to control speed and incline.

Some have large, touchscreen displays, though this is typically reserved for the more expensive models. Also, many electric treadmills have built-in speakers that you can connect to a smartphone or tablet via the headphone jack as well as a fan to help keep cool.
Curved Treadmill
Powered manually, these treadmills are fitted with a concave-shaped running belt. As you push down and then backward, the belt turns.

A curved running deck should feel more comfortable to run on than a flat one. This is because the curve of the belt mimics the movement of your legs more closely. You can also set your own pace.
Try Before You Buy
It is important to have your running shoes on when you're looking at treadmills. If you go to a showroom (like Flair Fitness' showroom in Bridgend, Co. Donegal), you can try the treadmills out. Make sure you have a good sense for what you are looking for and get a feel for them as you walk.
Aftercare
A treadmill needs to be maintained, just like any other piece of equipment. The deck and belt should be lubricated regularly, and the machine should also be vacuumed at least once a week to keep it running smoothly. Most mainteance schedules are outlined within the manual provided by the treadmill manufacture and failure to follow this guide can lead to a voided warranty.
Storing in a Garage
Placing a treadmill in your garage can be a great solution if it takes up a lot of space in your home and doesn't match the décor. Manufacturers, however, recommend against doing so, especially if the garage is unheated. Your warranty could also be voided as storing treadmills in garages is riskier than storing in the house.
Cold Can Cause Damage
An unheated garage will certainly get very cold throughout certain times in the year, especially here in Ireland & UK where we can experience up to 4 seasons all within a day at times! The cold is not good for a treadmill's mechanical components, belt or screen. The electronic components, such as the incline function, could freeze and cease working. The cold can also cause the belt to harden and crack, causing premature wear. If the LCD screen on the console freezes, it may crack as well.
Dust and Dirt
The garage is usually not the cleanest room in a house. It's a place where dust, dirt, grass and leaves collect over time. This debris will get into the grooves of your treadmill and possibly into the motor. Even when you keep your treadmill in the house, you still need to clean the belt and motor regularly. If you keep your treadmill in your garage, it would be nearly impossible to keep up with the excessive accumulation of debris, which can cause damage and wear to the motor and belt.
Check Warranty
Most new treadmills will come with a manufacture warranty and guidelines which are generally listed in the "Important Precautions" section of the user's manual. Using your treadmill.You may void your warranty if you use your treadmill in a way that violates these precautions. Even if the treadmill is still under warranty, you may not be covered if you damage it while using it or storing it in an unheated garage.
FInal Thoughts
There are many benefits to getting a treadmill, as you can see from this guide. Getting one will take some thought though, but it will be worth it in the end, as you can enjoy working out in the comfort of your home whenever you like.
You can view our incredible range of treadmills here in our website: https://www.flairfitness.com/treadmills or you can come to our showroom based right on the border between Ireland and Northern Ireland. We sell all types of fitness equipment throughout Irelanind including treadmills, cross trainers, bikes, multi-gyms, weights etc Flair Fitness offer delivery and install services throughout Ireland.